Recentemente, a "queridíssima" Dani Noce, conhecida (antiga) youtuber do segmento da confeitaria e que sempre amou açucar, fez uns comentários bem peculiares sobre o que era, anos atrás, um de seus meios de vida.
Agora, Dani Noce ressurge na internet (para muitos) numa pegada fitness, abominando os doces e falando sobre aquelas merdas de biohacking, empreendedorismo, pitadas de moda e mais algum ingrediente que deixa qualquer brigadeiro doce demais. No seu Instagram, que não vou compartihar aqui para não dar mais IBOPE, ela respondeu seguidores falando sobre sua jornada na luta contra o – suposto – transtorno de compulsão alimentar que lutou durante os últimos anos. Um perfeito cenário para ensinar os seus quase um milhão de seguidores, se tornou trending topics no Twitter, quando a blogueira fitness começou a dar declarações de consistência extremamente duvidosas e equivocadas.
Obviamente eu achei ridículas todas as declarações da moça, além de todo o novo cenário em que ela e o marido Paulo Cuenca agora se encontram. Eles já foram no passado "cancelados" na internet por questões trabalhistas. Dani Noce e o seu parceiro foram denunciados por abusos de funcionários, fazerem processos seletivos para pessoas que não iriam receber pagamentos e outras coisas ridículas. Naquela clássica premissa que qualquer pessoa que trabalhe com comunicação/internet já ouviu: "Ai é uma grande oportunidade você trabalhar conosco, isso já basta, pra que salário?". Pagar conta ninguém paga né? Se você quiser saber mais sobre esse escândalo da NoceCuenca Empreendimentos acesse aqui – sim, sempre fui fofoqueira né meu amor?.
Mas tá Uno, o que você tá aí contextualizando isso tudo? Então more, aqui neste texto, vou explicar mais profundamente todas as referências do vídeo que eu fiz lá no Instagram explicando porque a ex-doceira falou merda.
"Restrição = Compulsão"
Bom, começando por uma das bobagens mais equivocadas do seus stories, eu vim informar para você querido – e único bem provavelmente – leitor que não é bem assim.
Começando por um estudo intitulado popularmente por Minnesota Starvation Study, o conceito de que práticas restritivas são as ideais para diminuir vícios ou compulsões não podia estar mais ultrapassado. O estudo feito em meados de 1944 – ele é bizarro pois fez a galera passar uma fome cabulosa – e descrito detalhadamente no artigo The Psychology of Hunger (que eu usei como referência), captou inicialmente uma população de cerca de 36 soldados se disponibilizaram para participar do ensaio que avaliou os efeitos da fome e restrição alimentar.
O contexto era de segunda guerra mundial, então por isso que os cientistas queriam entender os efeitos da restrição alimentar que era fenômeno bastante recorrente no período. Os soldados ficaram durante 3 meses sendo avaliados com suas dietas habituais que foram posteriormente diminuídas pela metade durante um período de 6 meses.
Como resultado, vários dos soldados desenvolveram uma peculiar compulsão alimentar (toma Dani Noce) após o estudo, além de ficarem obcecados com comida de uma forma que vários deles se tornaram chef's de cozinha ou tomaram a cozinha como sério hobbie. Além disso, foi observado que iniciaram comportamentos depressivos, tiveram vários momentos de intensa ansiedade, associada com culpa de estarem naquela posição. Corroborando assim e escancarando o equívoco da queridíssima Noce lá em 1944.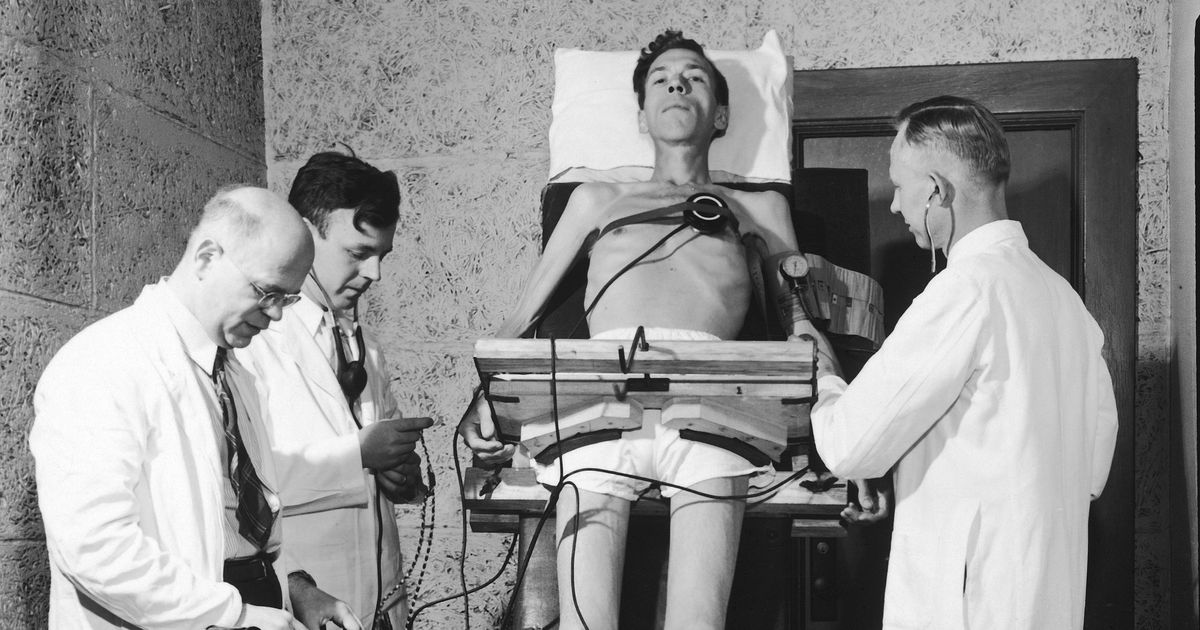 Ai mas muito antigo este estudo Uno, não acha? Então, indo para estudos mais contemporâneos, temos estudos de 1993, 1996, 2000, 2001 e 2009 que em suma relatam o mesmo. O último em específico, foi um estudo com 50 mil homens e mulheres – antes que me encham o saco dizendo que 36 pessoas é uma amostragem muito pequena – em que avaliaram a relação entre o módulo de dieta adotado pela pessoa (se restritiva ou se não-restritiva) e as relações com massa corpórea, inibição de mecanismos de fome e saciedade e outras variáveis – não preciso dizer que o estudo basicamente escancara que pessoas com dieta restritiva engordam e tem uma relação menos saudável com alimentação né?
Açúcar é igual Cocaína
Surtou né? Bom, é uma associação que tem tomado os mais diferentes veículos de notícias sensacionalistas ou não. Tudo por conta de um estudo publicado no Jornal Inglês de Medicina Esportiva. No dito cujo, alguns médicos além de compararem a substância açucarada com o padê, também tiveram o disparate de dizer que o açúcar é uma porta de entrada para as drogas (the new maconha/álcool).
Fico imaginando as crianças querendo começar usar cocaína depois de viciarem no açúcar. "Papai quero ir para uma droga mais pesada!"
Bom, o que tem de errado nesse estudo já que saiu até no Jornal Inglês de Medicina Esportiva? O alicerce. O estudo foi alicerçado em referências que podem gerar várias interpretações. No texto, os autores se pautaram em experimentos com roedores (veganas fechem os olhos) que foram apresentados à escolha de açúcar ou cocaína. Obviamente, além de pelo fato de não terem canudinhos, os ratinhos escolheram o açúcar todas as vezes em que foram confrontados. O óbvio é pelo fato de o doce ser uma substância em que conhecem mais e são mais familiares instintivamente do que a cocaína, que inclusive tem gosto não muito agradável.
"As vezes os ratos do techno de SP curtam cocaína mais do que açúcar né?"
Outra questão discutida é que os ratos tiveram comportamentos abusivos quando lhes foi disponibilizado o açúcar após um período de restrição. Mas aí que está o pulo do gato: os ratos tiveram comportamento compulsivo e abusivo não porque eram viciados no açúcar, mas porque entenderam que em breve seriam restringidos daquilo e assim deveriam comer mais do que o habitual. Indo contra o cenário mais comum de disponibilidade permanente de alimentos.
Tudo isso que estou te contando me foi contado por um psiquiatra de Cambridge que resolveu questionar o estudo em 2016. Ele, a partir de uma revisão de literatura, queria finalmente entender se existiam provas o suficiente de que o açúcar de fato era "viciante". Você pode ler o artigo dele aqui.
Além disso, vale falar também que aqueles papos que sempre inventam que pornografia, açúcar ou qualquer outra coisa tem os mesmos efeitos cerebrais que drogas é uma OBVIEDADE. O sistema de recompensas no nosso corpo é o mesmo. Então se algo é bom e gera prazer, claramente terá os mesmos efeitos no nosso cérebro. A diferença é que as drogas no caso tem a capacidade de manipular e fuder com o mecanismo de formas muitas vezes irreversível.
Ah, e uma coisa super engraçada aconteceu (risos). A Dani Noce postou um vídeo me refutando com um artigo da Nature que falava do assunto. Mas a fofa não leu o mesmo e deve ter, no desespero, procurado "sugar", "addiction" no Google e pegado qualquer artigo que visse primeiro. Digo isso, porque o artigo basicamente diz o mesmo que eu disse em todo o texto acima e finaliza dizendo que ainda não temos provas suficientes para falar muito do assunto. Tenta pelo menos ler o artigo que você achar Dani ;*
Bom é isso, se você quiser ver o vídeo ou ver os stories em que a Dani fez, corre lá no meu insta e dá uma olhadinha. Por favor, me ajuda na batalha de fazer os blogs serem legais de novo e comenta (não precisa logar), compartilha e leia aqui sobre drogas.
Que vocês todos se fodam bastante, beijos.